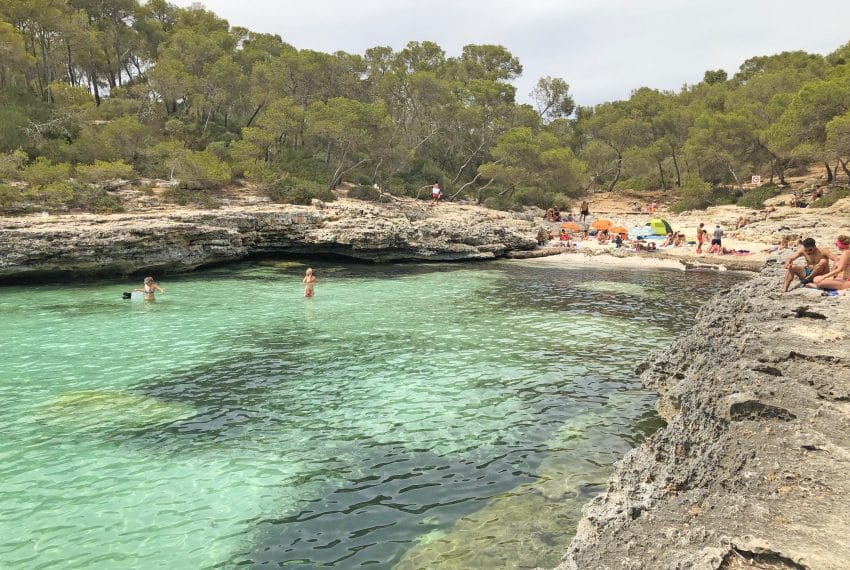 Mallorca Top Beach – Caló d'es Borgit
Here again one of our secret tips; Caló d'es Borgit!
This year we were once again a Saturday, on which no sightseeing decency, on the way to the beach. Everything was packed: towels, sunscreen, cooler (which must never be missing) and of course a few goodies (on the way still fast at Family Grill We bought spontaneously the beach of Cala Mondrago, as it is a beautiful area through the nature park. When we arrived at the parking lot and saw how overcrowded this was, was a plan change! A friend recommended us a very small but beautiful beach, right next door. We went there spontaneously.
Als wir zu dieser kleinen "Calita" runterliefen, war ehrlich gesagt wenig Platz auf der Sandfläche, aber dafür umso mehr Platz an beiden Seiten der Klippen (wir waren auch zu Sechst, ansonsten hätte man auch auf dem Sand einen Platz gefunden).
When I lay down my towel and picked up the water, I was really overwhelmed. Turquoise colored water, crystal clear, without any garbage. Sure, a few algae were in the water, but every natural beach lover knows that this is normal for a natural beach.
We spent the whole day at this small beach, with sunbathing on the cliffs, swimming in the water, delicious food, playing cards and great music. An improvised situation turned into a spectacular beach day with friends and family.
If you have another favorite beach in our area, feel free to write us in the comments!
We always look forward to new ideas and try out these beaches ourselves!
Lucas Froese | Sales Agent | +34 685 302 653 | lucas@lucasfroeserealestate.com