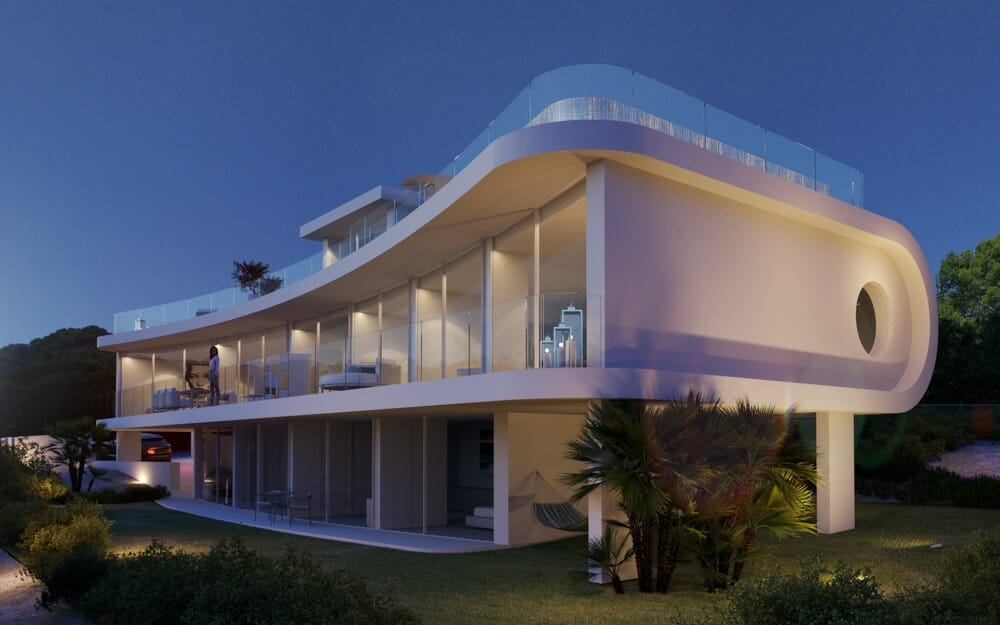 Luxury real estate as investment Mallorca
If you are thinking about buying one of the luxury properties in Mallorca as an investment, you hear a lot at the moment about a real estate market recession in Europe. But what about the real risk of buying a luxury property in Mallorca?
Yes, currently in Europe one notices that a change in the real estate market is imminent. Prices are stagnating or even going down, demand is no longer growing, and if before in countries like Germany you could call up almost any price on good properties and they would still sell, now it's not so easy.
But you have to keep in mind that there are also differences between the different real estate markets in Mallorca. It is not the same to buy a property in Germany or in Spain. And just as there are differences between the different federal states in Germany, there are also differences between the different "Comunidades Autónomas"/Spanish federal states.
The Balearic Islands and especially Mallorca is a symbiosis of its own, that is, a real estate market that is very little influenced by the other real estate markets. Of course, one also notices in Mallorca factors such as a Brexit, the Goldmann Sachs case or other financial crises. But the lesser problems and factors are not really relevant. In addition, it must be said that even in Mallorca you must distinguish between real estate standard market, real estate investments and luxury properties.
Standard market (real estate): This segment of the real estate market in Mallorca is very vulnerable to external factors, and generally to the economic and financial situation. As an example: Normal real estate purchases such as 2-3 room apartments, by young families or couples who finance a large part of the purchase.
Investments (Real Estate): The investment segment, is a very stable part of the real estate market in Mallorca. Normally always very stable, and even in times of crisis it holds, or even grows sometimes (especially when prices go down and interesting opportunities arise…).
Luxury real estate: The luxury segment on the island is usually very stable. Even in times of crisis, these sales keep very stable in quantity and selling price, even sometimes growing. This is due to the fact that in price segments from 2-3 million the buyers are usually broadly positioned, and also have reserves to buy or invest without problems in these times.
Luxury real estate in Mallorca are statistically, the last few years have grown more and more. If you take Santanyi as an example, a few years ago you could still buy a spacious finca with swimming pool and large garden for about 2 million. Currently, all new construction projects and fincas are at 3.5 – 4Mio. Southwest also seems to have no limit. Villas that were previously offered for 3-4 million are now at 5-7 million.
The trend continues to be positive. We expect that the luxury segment on Mallorca will continue to grow, especially in the coastal zones and top locations, but also in some zones that have become increasingly popular in recent years among luxury property buyers and investors (examples: Campos, Portocolom, Ses Salines, or Felanitx as an absolute insider tip). Of course, one also wonders where one should invest then. In the zones that have grown the most, or where the most growth is still expected? Well, it depends on them. Do you want a very safe investment with a small return, or a "just" safe investment with a very high return?
If you simply want to buy a property for yourself, then just look here under our portfolio and find your dream house: CLICK HERE
However, if you want to buy a luxury property as an investment, there are some points you should consider:
With most luxury properties, the return on investment is achieved by the increase in value when the property is sold again. However, there are also properties where the return is achieved by renting out the property, or a classic fix & flip where the property is bought, renovated and quickly resold.
A finished property VS building land: You can buy a finished villa, finca, apartment, etc.. or you can buy the building land and project yourself. Both options have advantages and disadvantages. The advantage of the first option is that it can be relatively fast and stress-free, the second option is that with ease a higher return achieved.
Always look at what demand is on the market: this means that you should think carefully about how well you can rent or sell this property. After all, it depends on the property type (townhouse, villa, finca..), on the real estate region, on the style of the property, etcetc..
We look forward to hearing from you if you have any questions or an interesting conversation about the luxury real estate market and investments in this sector in Mallorca!