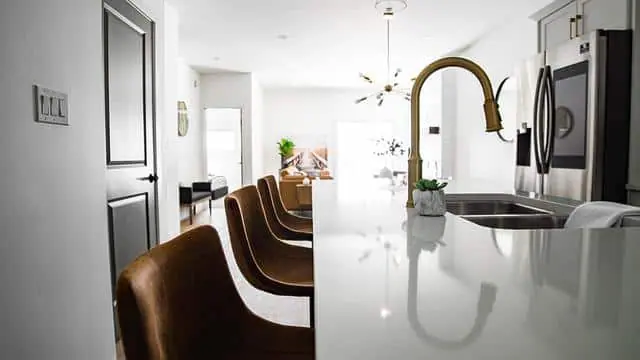 Best kitchen materials in Mallorca
5 Perfect materials for countertop fabrication and kitchen decoration
Need help choosing the perfect material for your kitchen?
The time has come to design the kitchen countertops in your home and you have seen several design projects for this space, which you like and want to implement. However, you do not know which is the ideal one since there are materials with different resistance to frequent use, care, finishes and above all, different price ranges.
This is why it is necessary not only to hire an interior designer, but to talk to him/her about your expectations regarding the design of the countertops and general decoration of the space, so that together we can find the best option that suits both your tastes and your budget.
In Lucas Froese Real Estate we are going to show you the different characteristics that can have the finishes and materials for the design of the kitchens, so you can choose the ideal one. This way you can present your tastes and budget to the designer in a clear way and start with the right foot the construction or renovation of it. Let's get started.
Marble kitchens and countertops: impressive luxury and durability
We start in style with countertops made of marble, a material that is not cheap at all and that only good professionals in interior design know how to implement in the kitchen area. Marble is a material that brings elegance, brightness, luxury and class to any area where it is implemented, especially if it has the right lighting.
In the kitchen area it can be a suitable choice if combined with appliances with a glossy finish, lights and windows that bring out its shine and a polished stainless steel dishwasher.
This material can create different mottled shapes in a multitude of colors, which is exactly what adds luxury to the design of a kitchen with marble, in addition, it is a hard material, heat resistant, does not scratch easily and whenever it is cleaned it will look shiny.
Of course, the disadvantage of it is its cost and that it can absorb liquids little by little, if these are not cleaned before with a tissue.
Decoration of kitchens in synthetic or laminate material
The laminate finish is one of the most used finishes for the kitchen area, consisting of several layers of different materials that make this material resistant to weight and humidity. The laminate can have a matte or glossy finish, depending on the customer's taste.
The great advantage of countertops made in synthetic materials is that the cost is much lower than other materials, making it a popular choice when creating a design plan for the kitchen.
The bad thing about laminate for the kitchen area is that although it resists heat, moisture, bumps and scratches very well, this material will degenerate over time, so it has a lower resistance than other types of materials for the kitchen. Possibly the interior designer will inform you about this, recommending that it is only a provisional design.
Wooden countertops and decoration for your kitchen: Is it a good idea?
If one of your favorite decorating styles is rustic or classic, you will love wood countertops for your kitchen, these should be combined with other details of the same material to look in harmony, such as wooden windows or a table of the same type of finish and wood.
The best thing is that wood combines with any color, so if you decide to paint your kitchen in colors that you don't think you can find materials that match, wood will be a good choice.
Now, the main disadvantage of wood countertops for the kitchen is that wood is porous because it is a completely natural product, so it can absorb oil, liquids and be delicate to shocks.
Therefore, it is a material that must be taken care of with the products that the interior designer recommends, besides being careful with the bumps and water stagnation, you will have a kitchen with a very classic and elegant style.
Granite countertops for the kitchen: One of the most reliable materials?
Granite was the undisputed number one material when it came to thinking about manufacturing kitchen countertops. It offers ample resistance to shocks, high temperatures, humidity, scratches and constant use. In fact, there are granite tops capable of resisting decades in perfect condition.
Cleaning granite is not a difficult task, but choosing furniture that will withstand these countertops will be a little difficult, as it is a very heavy material. Their classic design is white or gray with small mottled designs, but there are a variety of designs to choose from.
The main disadvantage is that for some people and designers it is a somewhat old-fashioned material if it is traditionally manufactured, unless you choose granite countertops with compact quartz, whose prices are very high, but also its beauty.
Quartz countertops and kitchen decor: beauty and strength at its best
Quartz is silicon oxide crystallized hexagonally, it is a very dense and compact material, so it can offer decades of constant use without showing signs of use, as well as beauty, since the colors in which it comes are vivid, to be precise, it is a kind of mixture between granite and crystal, being a semi-precious rock-crystal.
Quartz countertops resist shocks, scratches, humidity, liquids, high and low temperatures and constant use. In addition to this you can choose the color you like, since the main material is colorless and goes through a dyeing process.
The only thing to be careful with if we talk about the installation of quartz countertops for kitchens is that they should not be placed will stain. But this can be solved by placing some high temperature resistant tissue on the countertop.
At Lucas Froese Real Estate we recommend the use of this material for your kitchen project since it is a material that can be combined with any type of decoration thanks to its wide range of colors.
Other materials for kitchen countertop design and decoration
The materials we have mentioned are those that are used in most cases, however, there are others that can provide beauty and durability to the countertop for a price according to its quality, for example:
Stainless steel countertops: excellent durability, very easy to clean and with inlaid sink in some cases.
Silestone countertops: with quartz as one of its components, it is a surface that is very easy to clean and extremely resistant.
Porcelain countertops: a new entrant in the market, it offers great resistance and mimicry to be similar in design to other materials.
Remember that at Lucas Froese Real Estate we can provide you with all the help you need to choose the right materials for your kitchen, both in terms of countertops and decoration. We hope you have been able to choose the perfect material, if so we are waiting for your message so we can start with that decoration project for your kitchen.